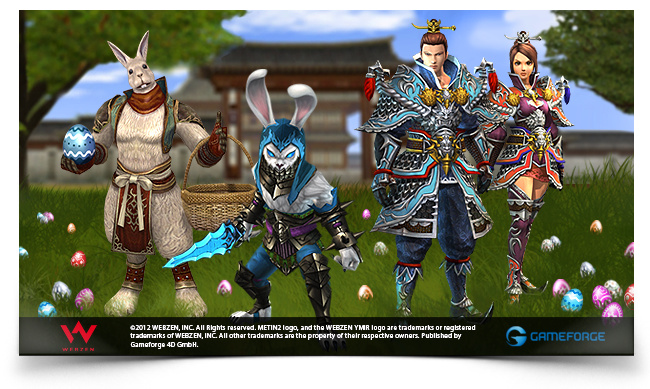 Dear Players!
We've got something egg-stra in store for you! It's Easter in Metin2: make scrambled eggs out of Easter Metins, find Magic Eggs, help the Easter Bunny find eggs and win big in the Boss Reaper Event!
The Easter Event starts on 7th April at 10 AM and ends on 24th April at 10 AM (All times are CET).
All event NPCs will hang around in the villages for a few days after the event ends so you'll have enough time to pick up your rewards.
The egg-cellent agenda:
Easter Event:
The monsters were faster at finding eggs and snapped them all up. Go on the hunt, steal the colourful treasures back and bring them to the Easter Bunny – he'll have a reward waiting for you.

In addition to the normal Metin stones, there will also be special oval Easter Metins for the duration of the event! Make scrambled eggs out of them and with a bit of luck you'll find a valuable Magic Egg inside. Easter Metins are only available up to level 95 and thus do not appear in the newer maps like the Enchanted Forest or the Temple of the Ochao.

Easter in the Item Shop:
Anyone who wants to dress up for the Easter Event will find a plush bunny costume with matching bunny ears in the item shop. Carrots not included. For everyone who doesn't really care much for carrots, we also have incredible samurai armour in the shop.

Don't want to hunt for eggs alone? Then get yourself some companionship: Donnie a.k.a. Killer Bunny and Frank a.k.a. Bun-Bun might give you a nasty look if you ask them about their Easter eggs, but they'll follow you enthusiastically into any battle, grant you useful bonuses, and scare away your foes with nothing more than their grim faces. You'll find these and other brave pets, a whole stable full of mounts and much more in the item shop.

Boss Reaper Event *Easter Edition*:
You need a break from searching for eggs? Then go boss hunting instead! Boss monsters will appear in the neutral areas
Orc Valley

,

Ice Land

,

Fireland

and

Desert
. What do you have to do? Hit them – hard! Every hit by a character over level 30 counts and causes a damage point. Each character qualifies for the daily reward starting from their first counted hit. But the character is only eligible for it if they are also there when the boss dies. In order to make it a challenge for you, your attack speed can be reduced by 20% while attacking the boss monster. This debuff will be displayed in the upper left of the window. If you're present when the boss monster dies and you have achieved at least one counted hit, you'll have a chance at a Mystery Box and also get a 20% EXP buff for 30 minutes. This is also visible in the buff list in the upper left. If you leave the area or log out of the game before the boss monster dies, your counter will be reset. In that case, you won't get a daily reward.
What's the point of the hit counter? Once you've defeated the boss monster, you can either go to the NPC Mr B. in the village or click the event button next to the minimap and pick up one of the following chests:
For 500 counted hits you get a Bronze Boss Reaper Chest.

For 1000 counted hits you get a Silver Boss Reaper Chest.

For 2000 counted hits you get a Golden Boss Reaper Chest.

And you can redeem your points even after the event ends. But not while you're on the go – you'll need to see Mr B. personally. He will wait for you at his location a bit longer. And of course, any unused points will expire.
The daily reward counter will be reset at midnight. Rewards that are not picked up will expire then – no exceptions. If the boss monster is killed and you landed at least one valid hit, you can click on the event button next to the minimap and pick up your daily reward.
The Metin2 Team wishes you lots of fun hunting for Easter eggs and battling bosses!